10/06/2016
Note: I originally wrote this post for myself as a Google Doc with no intention of publishing it on my own blog. However, I've decided to put it on here so I can openly receive feedback and tell people my plans…
A word of warning: not much effort has been put into editing this post as it was originally intended purely as a note/reminder to myself.
Purpose of this document:
To establish a plan of action to take UIDB.io forward through to the end of June now that the site is live and getting visitors and feedback.
If I ever find myself procrastinating or not sure what to work on, I will simply look at the actions at the end of this document and get straight to work, without question.
This will keep me focussed.
Site status:
UIDB.io is live at http://UIDB.io. It has over 200 UI examples posted, but they were basically all posted by myself. There are 5 Collections, but only 1 of these was created by a real user (thanks http://uidb.io/hs5xrk!). It's not too far from where I'd like it to be feature-wise, but it's still not polished. I'd probably call it a V0.90.
Progress so far:
To-date UIDB has had just under 5000 unique visitors and nearly 25k pageviews: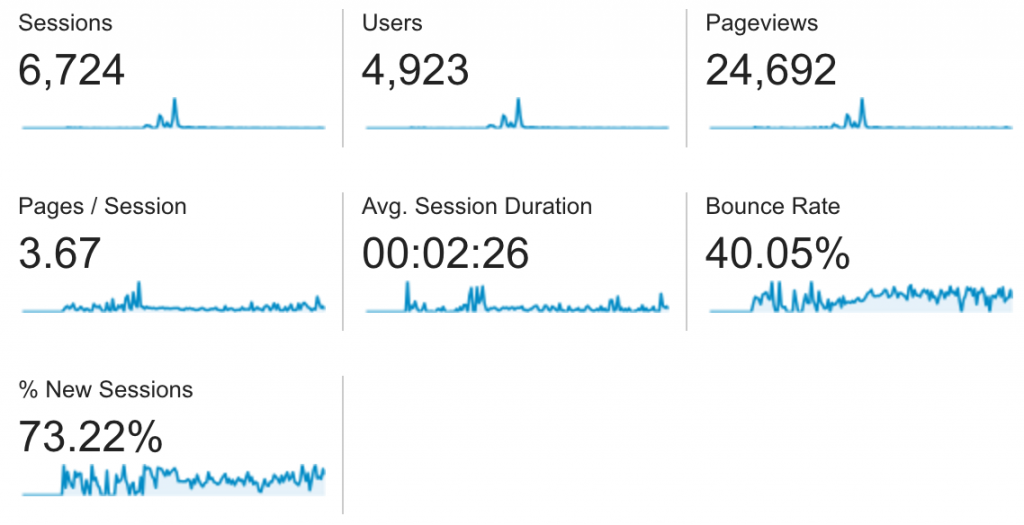 This is what those stats look like over time. This chart shows sessions vs time:
Here's how that's attributed to each channel: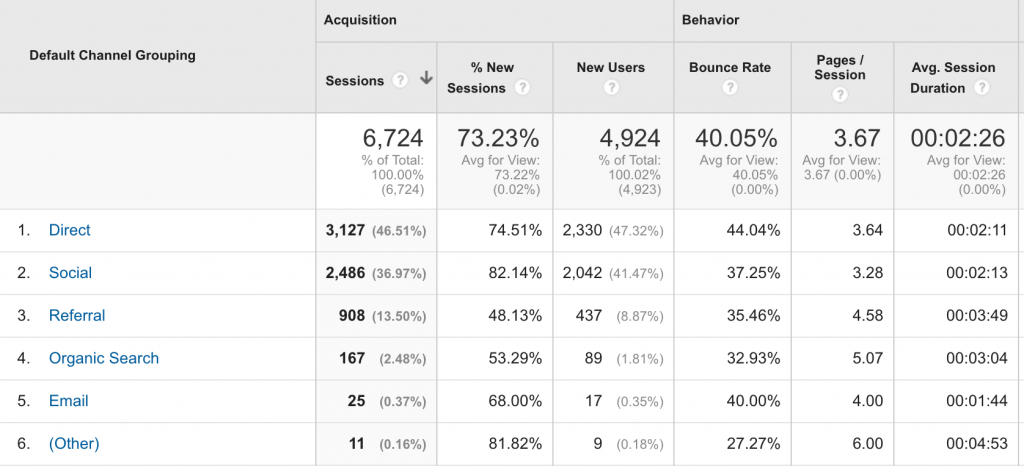 A big thanks to Speckyboy for featuring me at the top of their design weekly newsletter and post: https://speckyboy.com/2016/03/14/weekly-news-designers-n-325/
Priorities this month:
Now that UIDB is live I want to get more visitors through the door and searching through UI examples and collections.
Equally though, and perhaps more importantly, I want to do a bit of a design polish. When I went live initially I clearly didn't put much effort into the interface design (ironic, isn't it?). That irony is also the reason I'm going to put a little bit of time into improving the design; my users are generally designers, developers, and other techie-types… all of whom appreciate good design and good UX. If UIDB is horrible in terms of design and usability, then it devalues the brand and might turn people away from the site.
June priority list:
Squash any bugs (I'm aware of 2-3 at the moment)
Polish the design (especially grid of results and top nav menu)
Build and implement the WordPress blog
Write one blog article – probably along the lines of "The ultimate guide to design inspiration in 2016"
Send out the first ever UIDB email newsletter
Get some traffic
Continue to post ad-hoc on Twitter
Set up Facebook page so I can Buffer posts to Twitter and Facebook simultaneously
Most importantly of all:
In June I will not build any new features.
In June I will not build any new features.
In June I will not build any new features.
In June I will not build any new features.
In June I will not build any new features.
In June I will not build any new features.
I definitely suffer with "shiny object syndrome"… I.e. I lack focus at times. Writing my short-term plans and priorities down in this post is a form of accountability for me to ensure that I do not veer off track. Sometimes I'll think up some new functionality I need and build that into a side project, when it's completely unnecessary and there were better things I could have been doing, like actually trying to reach product/market fit and get traction. I'm determined not to veer off track too much with UIDB.
A note on priorities:
By creating a priority list for this month I am not forgoing the opportunity to be agile, and I am not saying that priorities are 100% set in stone until July 1st.
What writing this down is doing is giving me a list to work through when I'm in need of some motivation for the project. All side projects inevitably encounter a period of loss of motivation, lack of drive to just do "the next thing", and most importantly of all – they make you encounter time when you're at your desk ready to crack on with the project, and you don't know what "the next thing" to do even is (often ending up in analysis paralysis)!
The reasoning behind writing down my objectives here is to keep me on track and to ensure that I am working on the most valuable 'thing' at all times. It'll remind what to do, and just as importantly what not to do.
Priorities going forward:
Here's a rough idea of what I think my priorities will be going forward. My use of the phrase "rough idea" here is intentional; following on with being agile and the "lean" mentality, I don't know what my priorities are going to be next month or in 6 months time as I'm happy for my priorities to change, and I want to be reactive to the market, news, content, feedback, and so on.
Having said that, here's what I think the next 3 months will look like:
July:
July's focus will be on iterating user feedback and making sure everything is in place ready for a full launch (ProductHunt, HN, etc.).
Iterate UIDB product based on user feedback (small tweaks, not massive new features)
Continue to populate the site with examples myself based on search queries and UI requests
Analytics/event tracking audit (Mixpanel and GA) to make sure I have visibility of what users are doing
Put together and begin executing a marketing plan (I already have quite a few ideas for this)
Set up a

[email protected]

email address
Networking with the industry online for awareness (I will research UI examples for people for free and then post it as a collection for them – hustling!)
Make sure the site is stable and works well enough for me to completely trust it (i.e. feel comfortable if 100k people saw it)
Create an outage page and do an outage dry-run in case I get a big influx of traffic
August:
August will be about pushing forward everything that has been built, having faith in the site, and driving traffic to it via great content.
Implement memcache
Load test the site in preparation for launch, possibly move to its own VPS
Launch on Product Hunt and HN
Iterate on PH and HN feedback
Marketing automation
Regular-ish email marketing
Content content content
Traffic traffic traffic
September:
In September I really want to prove the value of the business and for it to start to show a lot of promise by this point. BHAG (Big Hairy Audacious Goal): get designers from 5 'household name' companies registered on UIDB.
Business development
Monetisation plan and execution
Product enhancements
Implement Algolia
Feedback
Would you do things differently? After writing this and pondering it for a while, I'm conscious that I'm still not close enough to my users. As a result, and a quick fix, I've just published an on-site survey that looks like this: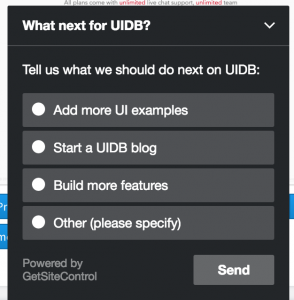 FYI I used https://getsitecontrol.com to run the survey – I highly recommend them. Their suite of tools is great for price they charge.